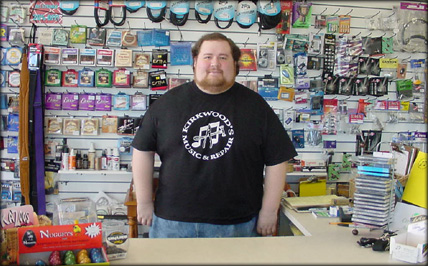 Hours: Monday - Thursday 11am-7pm, Friday 11am-6pm, Saturday 11am-4pm, Closed Sunday
Kirkwood's Music and Repair is primarily a band instrument repair shop that happens to have a store front. We are a locally owned family business where the customer comes first. We service and repair band and orchestral instruments IN-STORE for area students, teachers, gigging musicians, and the average person that found a guitar or clarinet in grandma's attic.
In addition to our repairs, we rent high quality band director approved instruments including brass, woodwind, orchestral strings, and concert percussion kits. More information is available in our rental section.
We have a rotating stock of quality rebuilt instruments and consignments that are a great buy compared to factory new stock. Drop us a line to find out what is in stock.
We offer a wide variety of accessories and sheet music for all kinds of instruments. Need strings, reeds, mallets, hubcaps to a 1976 Ford Pinto? We should have most of those in stock.
Rent your instrument online now from Kirkwood's at RENTFROMPHONE.COM
Email me at kirkwood@kirkwoodsmusic.com
music, music store, guitar lessons, saxophone lessons, violing lessons, music stores, augusta ga, band, guitar lessons augusta georgia, drum lessons, orchestra, repair, fix, kirkwood, augusta, georgia, martinez, evans, world, center, stage, jays, sheet, method, brunkows, portmans, brunkow, repair, rock bottom music, clarinet, saxophone, flute, mouthpiece, string, guitar, electric, acoustic, stand, sheet, lesson, lessons, teacher, washington, wrightsboro, drum, trombone, tuba, chip, mcdonald, geoff, guthrie, big, city, studio, accessories, bongo, conga, sticks, reeds, reed, ligature, trumpet, french, horn, book, essential, elements, cello, violin, bass, viola, case, alvarez, cable, amp, microphone, wireless, recorder, cd, capo, tuner, metronome, dent, brass, woodwind, percussion, georgia, north, south, east, west, gordon, richmond, columbia, kirkwoods, lakeside, greenbier, hephzibah, rock, bottom, veritas, vir, rental, school, cloth, polish, fiddle, banjo, mandolin, discount, rosin, strictly, rubank, arban, cork, felt, pad, pads, overhaul, music, repair, evans, aiken, carolina, savannah, atlanta, cheap, nut, bridge, slide, pedal, throne, alvarez