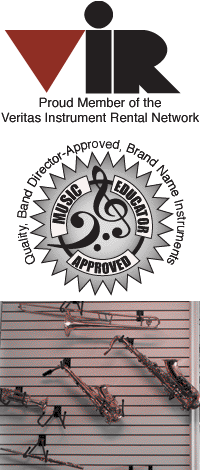 We rent high quality band director approved instruments including brass, woodwind, orchestral strings and percussion kits. Only reputable brand name instruments are used such as Selmer, Bach, Buffet, Conn, King, Holton, Jupiter, Yamaha, Keilworth, Glaesel and Knilling. We offer easy and affordable rentals of new and used instruments through Veritas Instrument Rentals. You can rent for a week or rent-to-own without having to choose first. It's all the same.
If it's used in band we pretty much have it. Flutes, piccolos, clarinets, bass clarinets, soprano-alto-tenor saxophones, single and double F-horns, trumpets, trombones, euphoniums, tubas, and snare/bell kits are all available but keep in mind that some of the larger instruments like a baritone saxophone are not always kept in stock and may take a few days to arrive so please plan accordingly.
Let's not forget the orchestra either. Violins in all sizes from 1/16 to 4/4, 12" to 16" violas and 1/4 to 4/4 cellos are available as well. These are perfect for students entering the Richmond County Orchestra Program and we carry all the supplies they need.
Rent your instrument online now from Kirkwood's at RENTFROMPHONE.COM