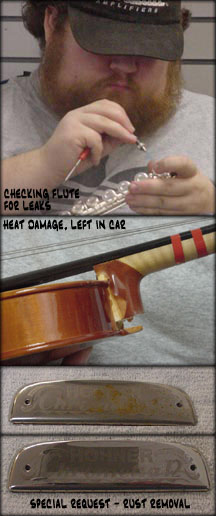 Kirkwood's Music and Repair offers full service in-store repairs on most band and orchestral instruments. Everything from minor adjustments to complete repad jobs are no problem. Keep in mind though that we are a repair shop, not a restoration shop. Should you want to refinish a horn, we will be glad to provide you with references to have that done.
All major brands are serviced as long as parts are available or can be manufactured on-site. Some new brands have emerged that cannot be repaired by normal methods due to inferior metal and design as well as the inability to acquire replacement parts. In cases like this, you will be advised to return said instrument to the store where it was purchased for service.
Most repairs cannot be quoted over the phone due to their complex nature however you are welcome to bring the instrument in for a free estimate. Time and workload permitting, we try to accomodate minor emergencies on a "while you wait" basis. We also pull mouthpieces free of charge.
Kirkwood has been repairing instruments for almost 20 years. He is an active member of NAPBIRT and studied under various apprenticeships for several years, learning woodwind repadding and basic brass work. He refined these skills while working full time with Chris Hardy, who now graces our shop with his expertise as well. As his experience and knowledge grew he moved into string instruments. During this time he pursued a Music Education degree at Augusta State University where multiple pedagogy classes aided his ability to play test the instruments he worked on. Instead of teaching, he decided to open a store of his own and repair instruments full time. Prior to opening, he apprenticed at a six-person repair shop in Seminole, Florida and learned many new techniques and gained insight into different methods of doing the same kind of repair.